Besides using the image widget within the Leadpages builder to add and remove images from Leadpages and Leadboxes, there's an Images library in the dashboard of your account.
NOTE: Maximum file size is 5MB. Leadpages supports the following image filetypes: TIF, JPG, PNG and GIF 
Adding images
Click the profile icon at the top right corner of your dashboard.
Select "Images".
Click Upload new image.
Choose the image file you would like to upload from your computer and click Open.
Removing images
Press the trash can icon for the picture you want removed.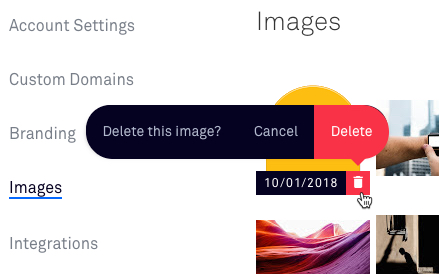 (Updated October 1, 2018)
---
Please let us know if you have additional questions.
You can always file a support ticket if you have additional questions by clicking the Support button in your dashboard as shown here or clicking here to file a support ticket.