Add call-to-action buttons to your page and link them to a Leadbox, Leadpage, an external URL, or a section on your Leadpage.
Using the Button Widget
Editing click events
You can link your button to an external URL, an existing Leadpage, a popup Leadbox, or another section on your Leadpage.
Hover over your button, then click Edit Click Event or Add Click Event as seen below (alternatively, click your button, then click the link icon in the widget settings panel):
Existing button on a page template 


New button widget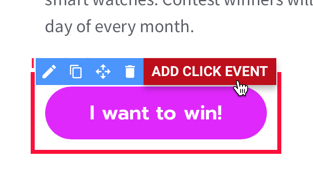 If your button is already connected to a Leadbox, you can edit the Leadbox by clicking Edit next to the Leadbox name, or click Remove for more link options. Then, choose to link your button to an External URL, Leadpage, Leadbox, Calendly popup or a page section. Click here for more information on linking options.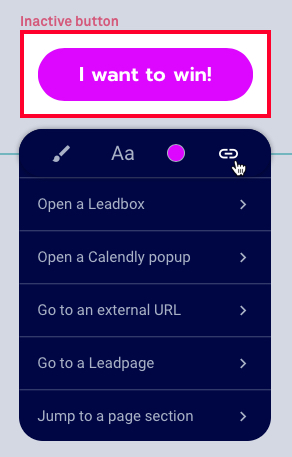 If you choose a URL or existing Leadpage, you can select the New Window option to make the link open in a new browser window. You can also choose Use Nofollow so the hyperlink does not influence the ranking of the link's target in a search engine's index.
You can learn more about setting up Leadboxes here. 
Formatting text
Click the font icon (Aa) to adjust the font, size, line spacing, and style of your button text.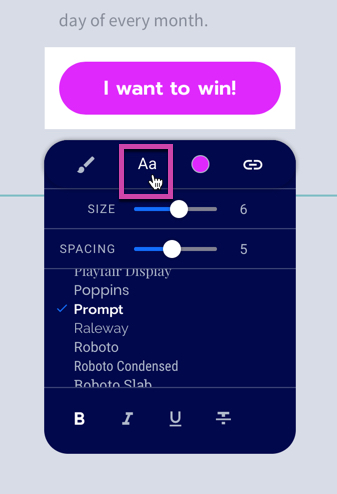 Within the font settings you can also format your text in bold, italics, underline or strikethrough. 
Customization and Styling Details
In the style menu, you can change the button's size, choosing between small, medium, or large. You can also select the Full Width option, which will force the button to fill the entire width of whatever column it's in.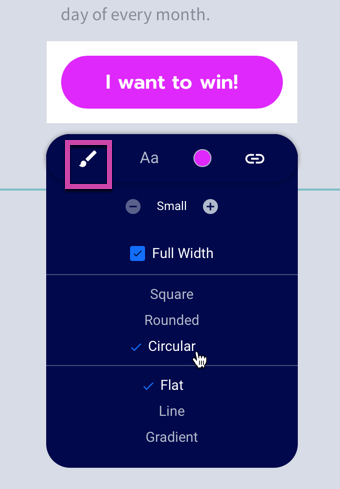 In the style menu, you can choose between square, rounded, or circular corners for your button. You can also choose between a flat, outline, or gradient style of button, as seen below:  


The color picker allows you to choose from your brand colors, the page template colors, or click ADD next to "Page Colors" to enter hex codes or select a different color for the background of your button and text, as shown below: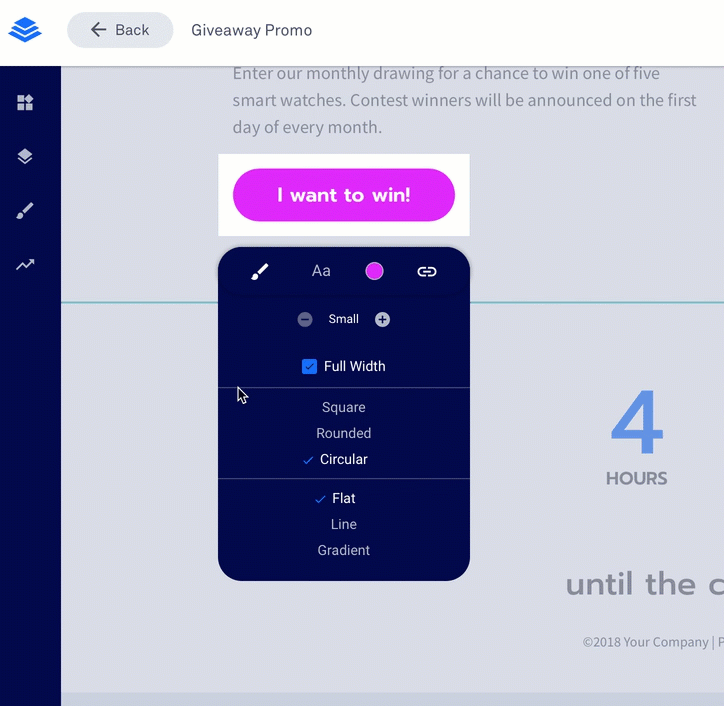 Tips and Frequently Asked Questions
Can I link a button to a standalone Leadbox, created with the old builder?
Absolutely, but you'll want to use the HTML widget instead of the button widget.
Tip: Don't forget to link the button.
Although you can create a button without linking it to a destination, we recommend linking your button to something, so that your visitors are not confused if they click on a button and nothing happens. 
Tip: Select a button color that stands out from the rest of your page.
A bold color will draw a users' eye directly to your button, making them more likely to click it.
(Updated September 5, 2018)
---
Please let us know if you have additional questions.
You can always file a support ticket if you have additional questions by clicking the Support button in your dashboard shown here or clicking here to file a support ticket.