You can use various headlines on your page to emphasize sections and break up your content. Unlike the text widget, our headline widget includes default styling options specifically for titles and headings.
Using the headline widget
Editing headlines
To edit your headline's content, click on the widget and begin typing. You can format text using standard keyboard shortcuts—and if you make a mistake, just hit command/ctrl-z to undo. 
Selecting a headline style
When you highlight the text in your headline, you can choose between four settings that partially control your heading's size (along with the size settings in the font panel). Most headlines in our templates use the Headline style by default—you can change the setting by clicking it and choosing a new option from the list.
Formatting headlines
Click the B and I icons in the headline widget settings panel to bold or italicize text, respectively. To add an underline or strike-through effect, first click the font icon (Aa), then toggle either option at the bottom of the panel, as shown below.
You can also adjust the font, size, and line spacing of your text under the Aa menu. Note, the Size slider will cover a different range of sizes depending on the headline style you choose.
TIP: Any custom fonts you set for individual headline widgets will override global type styles.
You can learn more about our global type styles here.
Adding links to headlines
You can link any text in your headlines to a URL or to a pop-up. Highlight the text you'd like to turn into a link, then click the chainlink icon in the widget settings panel. Then, set your link destination—you can choose between a URL, another landing page, or a pop-up. Learn more about creating pop-ups here.
Headline SEO tags
Some Leadpages users want to make sure they have an SEO H tag on their page. You can make sure of this by using the headline widget, as each size setting within the headline widget corresponds with an H tag like so:
Jumbo, Headline = <h1>
Subhead = <h2>
Small Subhead = <h3>
More on tracking and SEO here.
Customization and styling details 
You can also adjust the alignment of your headline text between left-, center-, and right-justified by clicking the alignment icon (next to italics). 
The size of your headline will automatically adjust for different device sizes like mobile phones and tablets. You can make larger headlines (like for a title) by selecting the Jumbo or Headline style option.
Using the same font for each heading? Set a global type style in your page's style settings. Click the paintbrush icon in the sidebar, then Type Styles and choose a font that will apply to any heading widget whose font you don't customize.
Use the color picker to choose from your brand colors, recent colors, or click ADD next to "Recent Colors" to enter hex codes or select a different color for your date widget as seen here: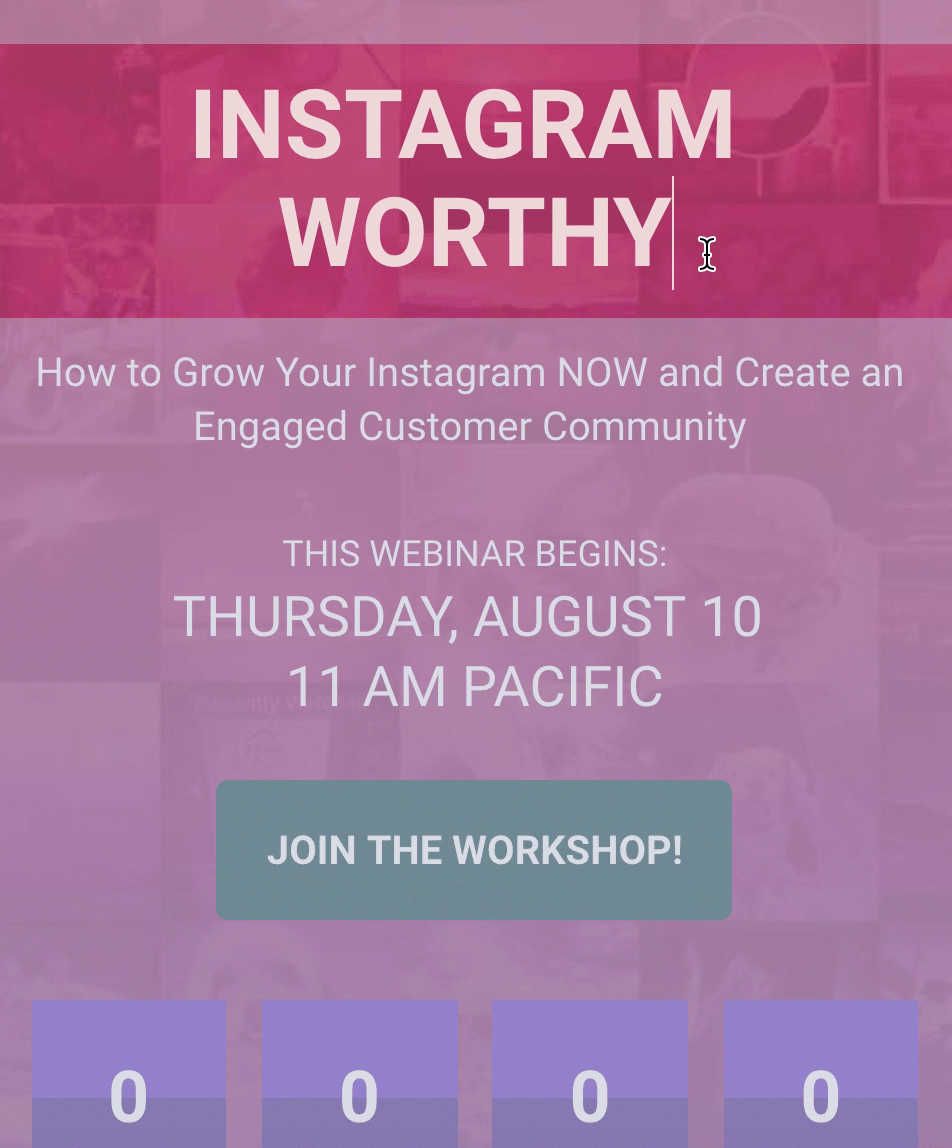 Tips and frequently asked questions
Can I create multi-line headlines?
Yes, press Shift + Enter to create a line break.
---
Need more help?
You can always get in touch with our support team—just click help_circle in the top-right corner of your Leadpages dashboard, or submit a ticket ↗