The text widget is the primary tool for adding text to your pages & pop-ups.
Using the text widget
To get started, simply click and drag it to the location you wish to add text, or use an existing text widget from one of our templates. 
Editing text
You can click on the widget directly and start typing to edit your text. We support multiple paragraphs, so you can hit enter to add even more content. Use Shift + Enter to create a new single-spaced line.
If you make a mistake, you can use standard undo and redo keyboard shortcuts (command/ctrl-z to undo, and command/ctrl-y to redo).
Formatting text
Click the B and I icons in the text widget settings panel to bold or italicize text, respectively. To add an underline or strike-through effect, first click the font icon (Aa), then toggle either option at the bottom of the panel, as shown below.
You can also adjust the font, size, and line spacing of your text under the Aa menu.
Creating lists and adjusting alignment
Click the alignment icon between the italics and font icons to toggle between left-, center-, and right-aligned text. 
Select the bullets icon to create a list with checkmarks, bullets, numbers, or custom icons.
Select the text, click the color picker and then List Icon to edit the color of your list icons.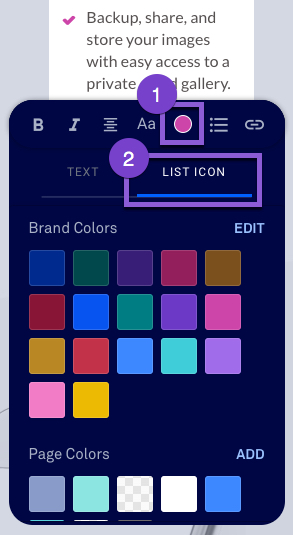 Creating links
You can link any text to a pop-up, URL, Lead Page, Calendly pop-up or page section. Highlight the text you'd like to turn into a link and click the chainlink icon in the widget settings panel. Then, choose between a URL, Lead Page, or pop-up as your link's destination. You can also learn more about creating pop-ups here. ​For more on linking options, click here.
Customization and styling details
You can increase the size and spacing of your text to "10" — for larger sizes, consider using the headline widget.
To set a default font for text widgets on your page, click the paintbrush icon in the left sidebar, then Type Styles and choose your desired typeface. 
Use the color picker to choose from your brand colors, the page template colors, or click ADD next to "Recent Colors" to enter hex codes or select a different color for your text as seen here: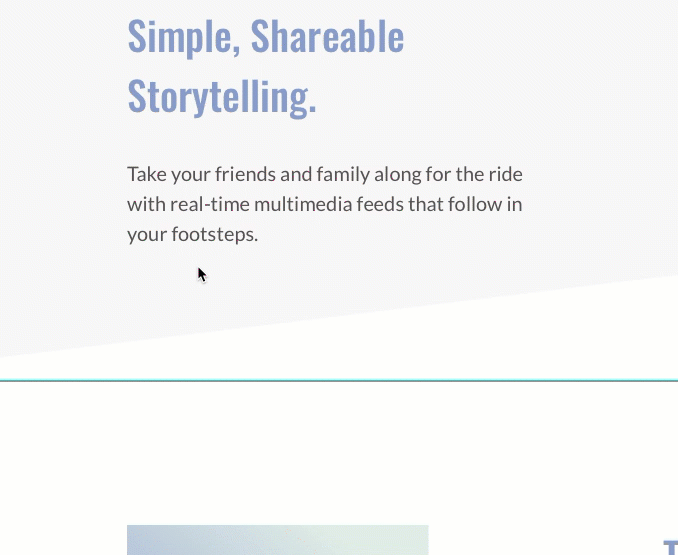 Alignment and list options affect full paragraphs—all other customization options affect whatever text is highlighted.
Tips and frequently asked questions
Can I use different icons for each item in my bullet list?
Your selected icon will apply to the entire list. However, you can create multiple lists within the same text widget if you separate them with an empty line. 
What fonts are available? Can I upload my own text/font style?
We provide a curated selection of some of the most popular Google Fonts:
| | | |
| --- | --- | --- |
| Alegreya | Fira Sans | Open Sans |
| Alegreya Sans | Handlee | Playfair Display |
| Archivo Narrow | Inconsolata | Poppins |
| Arial | Karla | Raleway |
| BioRhyme | Lato | Roboto |
| Chivo | Libre Franklin | Roboto Slab |
| Cormorant Garamond | Lobster | Source Sans Pro |
| Crimson Text | Lora | Source Serif Pro |
| Domine | Montserrat | Times New Roman |
| Eczar | Neuton | Varela Round |
| Georgia | Old Standard TT | Work Sans |
We don't support uploading custom fonts at this time, though you can use web fonts if you're comfortable with CSS and HTML.
If you're pairing text with an image or a calendar event, consider using a more specific widget.
You can read more about our Image + Text widget here.
(Updated January 22, 2019)
---
Please let us know if you have additional questions.
You can always file a support ticket if you have additional questions by clicking the ? support button at the top-right corner of your account dashboard or by clicking here to file a support ticket.