You can share any customized landing pages so others can use it as a template and make edits within their own account. Sharing pages is a great way to work with landing pages on a team or with clients. Read on to learn how to share your pages.
What gets shared
When you choose to share one of your landing pages, you're essentially linking to a customized version of a landing pages template. So, people you share your page with will be able to see custom text, images, and other content (including any widgets you've added if you're using our Drag & Drop Builder).
Here's what's not shared along with your page.
Analytics data
Integration settings (including your opt-in destination, thank you page settings, and lead magnet setup)
From there, people you share with can edit their own version of your customized template. Note that any edits your recipients make are completely independent from your own. It's as if you're sharing a copy of the page. If you use this feature as a collaboration tool, others will need to share their edited page with you to pass along their updates.
Step-by-step instructions
Leadpages Builder
Click the down_angle button next to Update in the top-right corner of the builder, then "Share Page Template."
Select "Copy Link" and share it.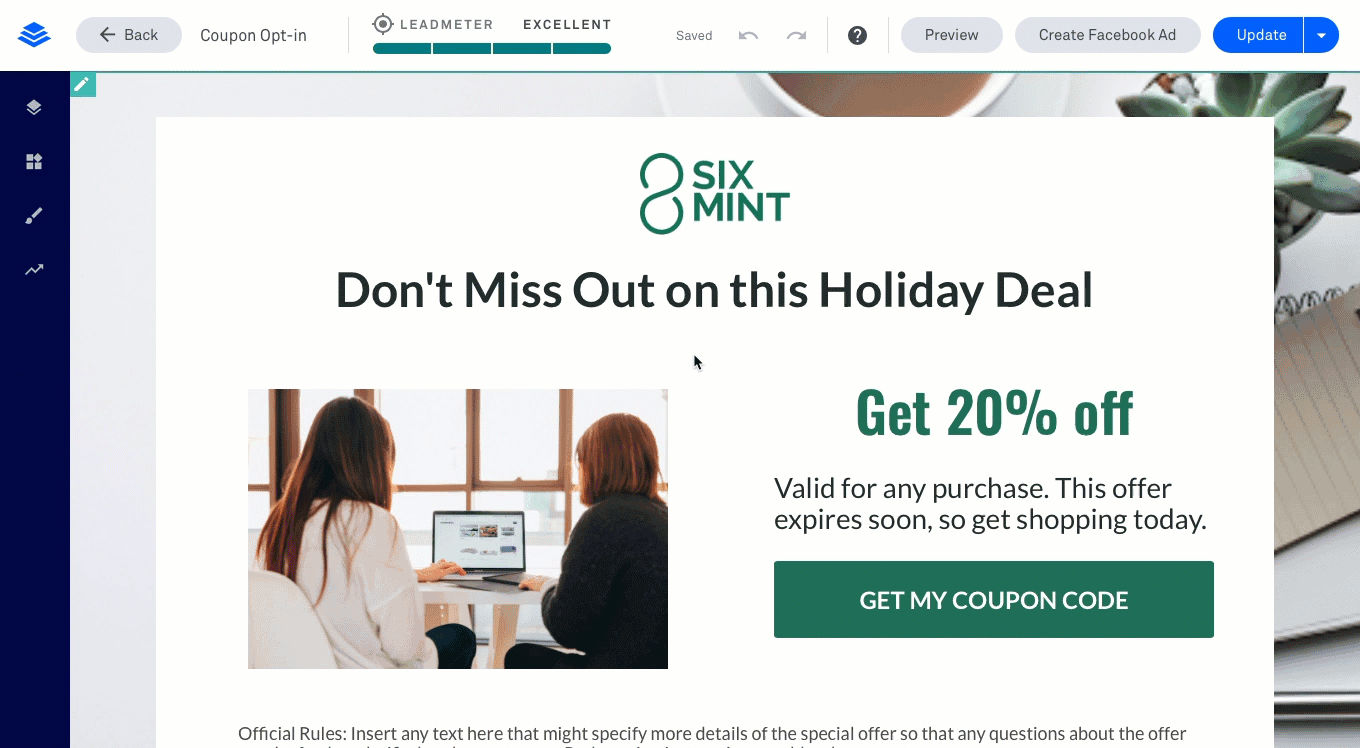 Account dashboard
Navigate to your list of landing pages.
Choose the landing pages you'd like to share, then open its Actions more menu and choose Share Page Template.
Click "Copy Link" and share it.

How your link will work for recipients
When you share your link, your recipients will see a message like the one shown below:
[Your name] customized the [name of the template you used] template inside landing pages to create this landing page. This shared version includes all of the custom text, images, and style settings [your name] may have added or changed. You are viewing the page exactly as [your name] customized it.
All your recipients will need to do is check the Terms of Service link and Continue to Preview.
After that, your recipient can click Use This Page, which will prompt them to log into their Leadpages account (if they have one). Or, if they're not a customer, they'll be prompted to sign up for Leadpages in order to edit the template.
NOTE: If the page uses one of our free templates (or a premium template your recipient has already purchased) the customized page will open in the editor. Otherwise, they'll be prompted to purchase the template.
---
Need more help?
You can always get in touch with our support team—just click help_circle in the top-right corner of your Leadpages dashboard, or submit a ticket ↗