Infusionsoft provides powerful email and CRM tools in an all-in-one package. Using our integration, you can add leads directly to Infusionsoft using tags. Let's get started!
NOTE: As a company, Infusionsoft has rebranded and is now called Keap. Therefore, it is now referred to as "Infusionsoft by Keap."
The fine print
Infusionsoft is available with all of our conversion tools: Drag & Drop and Standard pages, sites, pop-ups, opt-in texts, and trigger links.
Integrate your account
Before sending leads to Infusionsoft, you'll need to connect your account to Leadpages.
NOTE:
For the integration to work properly, we recommend connecting to an Infusionsoft account that's in your Admin User Group.
Get the steps ↗
Here's how to integrate with both of our builders at the account level:
Drag & Drop Builder
To use Infusionsoft with Drag & Drop pages, sites, or pop-ups, follow our guide here: Connect Your Integrations: Drag & Drop. You'll be prompted to log into your Infusionsoft account, but won't need any additional information to connect.
Standard Builder
To use Infusionsoft with Standard pages, pop-ups, opt-in texts, or trigger links, you'll need to connect your account with our standard system. Our general guide here will show you how: Connect Your Integrations.
Before you start, there are a few pieces of information you'll need from Infusionsoft:
your app name (i.e. "Account Simple Name") - the subdomain when signing in to Infusionsoft (i.e. https://subdomain.infusionsoft.com/)
your API Key
Once you have your Infusionsoft app name and API key, follow our steps here to connect to Leadpages.
Send leads to Infusionsoft
Now that your Infusionsoft account is connected to Leadpages, you can use it with any of your pages, forms, and more.
We have a full guide that covers how to configure your integration settings in each of our tools here: Choose a Destination For Your Leads.
Drag & Drop tools
Our Drag & Drop forms use a tag-based Infusionsoft integration. When your visitors opt in, they'll appear in your contact database with any tags you select.
Tags are a powerful way to segment contacts and automate marketing tasks. Learn more in Infusionsoft's Help Center:
You can search for (and select) up to ten tags from your Infusionsoft account as you set up your form.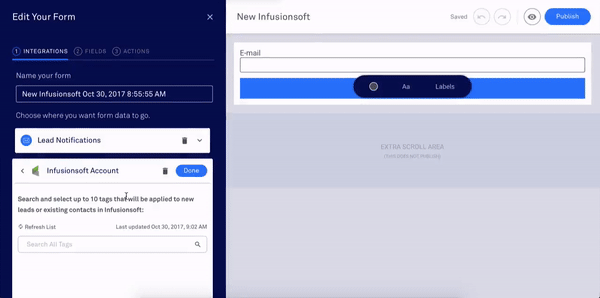 Migrate from web forms and sequences
Our former integration connected to Infusionsoft's web forms and sequences. You'll need to re-configure existing forms connected to web forms or sequences in Leadpages to take advantage of the new tag-based integration.
Here's how to re-configure your forms:
Open a page or a pop-up where your form is located. Then, click the form to open its settings.
Select "Infusionsoft" from the integrations tab.
Click Re-configure Form.
Search and select up to 10 tags, then click Done to save your settings.
NOTE: Once you re-configure your form, you won't be able to reconnect to an Infusionsoft web form or sequence.
For more details on configuring integration settings in Drag & Drop pages and pop-ups, read our guide here.
Supported fields
We support all of Infusionsoft's standard fields other than the Infusionsoft Company Name field as well as custom fields from your Infusionsoft account.
WARNING: Infusionsoft requires State fields to be accompanied by a Country/Region field and vice versa on Leadpages forms. If both are not present, the opt-in will not be sent to Infusionsoft.
If you use the "Lead Source Id" field, you'll need to take a few extra steps:
Copy your Lead Source ID from Infusionsoft.
Paste it into the Lead Source ID field in Leadpages as the default value.

NOTE: Checkboxes created within Infusionsoft will appear as radio buttons in the Drag & Drop Builder.
Standard Builder tools
Our Standard platform connects directly to Infusionsoft web forms and Legacy Sequences.
WARNING: Connecting to web forms and Legacy Follow-Up Sequences is not supported by Infusionsoft. Use our tag-based integration in the Drag & Drop Builder whenever possible to avoid potential issues.
To connect, select Infusionsoft as the integration for your form, opt-in text, or trigger link. Then, select which web form or sequence you'd like to send leads to.
If you use a web form…
switch the form from Draft → Ready status
make sure the campaign it belongs to is Published
You can set up a Legacy Follow-Up Sequence in Infusionsoft under Marketing › Legacy › Add or Copy a Follow-Up Sequence.
Frequently asked questions
Can I connect directly to a web form or sequence?
You can integrate directly with campaign web forms or sequences, but only in our Standard Builder tools. Our Drag & Drop platform uses a tag-based integration. Learn how to use tag goals.
---
Need more help?
You can always get in touch with our support team—just click Support in your Leadpages navigation menu, or submit a ticket ↗