At the heart of all our tools—from pages to sites to pop-ups—is the ability to send leads to third-party services. To do so, you'll need to connect your accounts. This guide will walk you through the process of integrating your accounts, regardless of how you use Leadpages.
Step-by-step
Integrations are connected and managed within the Leadpages Builder.
NOTE: With the exception of Drip, only one of each integration type (ESP, CRM, webinar service) can be used per form widget. However, you can connect your account to multiple integration services to add them to other forms and pages.
Once you connect a service, that account will be available in any of your forms. Here's how to access your integrations:
Open any page, site, or pop-up. If your form's pop-up is linked to a button on your page, hover over the button, and click Edit Pop-Up. Not seeing Edit Pop-Up? ↗
Hover over your form and click Edit Integrations.
In the left-hand sidebar, make sure you're on the ① INTEGRATIONS tab. Then click +Add an Integration › +More Services.
​
Select the service you'd like to connect, and customize its name if you'd like.
Fill out all required fields, then click Connect. Follow any on-screen instructions to complete the process.
You will then be able to access your integration from your form's integration settings. Once connected, click here for choosing your integration as a destination for your leads.
NOTE:
Keep in mind that each service has different requirements for connecting. Some may provide an API key and password that you'll need to use. Others will allow you to log in through a popup window. For more information on your service, check out
our detailed articles here
.
Drag & Drop vs. Standard integrations​
Our Drag & Drop Builder is our newest builder with the most customization and our latest features. It is used for building landing pages, sites, and standalone pop-ups.
Our legacy builder, the Standard Builder, uses an earlier version of our integration system. Although it allows for color, text and font choices, it's less customizable and static in its inability to add or move content around within a template.
The Standard system also powers standalone Standard pop-ups (standalone Drag & Drop pop-ups are available), trigger links, and opt-in texts. Any integration services you hook up via a Standard page or pop-up will work with the Standard tools listed above, but aren't connected with our Drag & Drop Builder.
You'll need to connect integrations to each builder separately if you plan to use both. You will only need to connect services at the account level once.
Because each builder uses a different integration system, there are separate steps to take to connect your integration services.
Connect with Standard (Legacy) Builder services
Standard integrations are set up within that builder and power standard landing pages, standard pop-ups, trigger links, and opt-in texts. Here's how to integrate legacy integrations:
Choose to edit the page or pop-up you'd like to integrate, then click on your call-to-action button.
Select

Integration settings

from the left-hand sidebar.
Click

+Manage Integrations, which will open up a new tab with the ability to connect legacy integrations.
After connecting your integration with your login credentials for the service or API keys as needed, navigate back to the Leadpages builder tab in your browser and click

Reload.
Then select the service and form or list where you'd like to send your leads.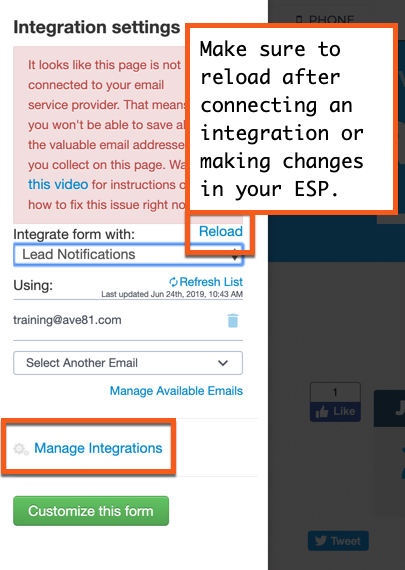 Frequently asked questions
What if my integration isn't available?
If we don't officially integrate with the service you're looking for, we do have a couple solutions for you to try.
First is our integration with Zapier. Zapier allows for you to pass form information from Leadpages to thousands of other services. Do a quick search here for your integration here in Zapier. If your integration is listed there, the benefit to our Zapier integration is that you can continue to design and style your form within Leadpages, as well as use our thank you page and lead magnet settings. Here's more on our Zapier integration.
If Zapier's not for you, we do have one other way to get your leads to the right place. Please keep in mind that we can't guarantee that it will work, though it's definitely worth trying.
This option is to use our HTML Widget with the HTML form code provided by your email service provider.
You can drag the HTML Widget to the location on your page or pop-up where you would like your form to display. Then, paste your embeddable HTML form code into the widget. Your form will be displayed as designed in your email service provider, both in preview mode and on the live version of your page.
Please note that we can't provide support for third-party code added to your pages, but it is a great option to try out!
Can I connect more than one account from the same integration with Leadpages?
You can, but only when using the Drag & Drop Builder. To do so, select your integration from the drag-and-drop integrations page and click Connect New Account. Then, follow the on-screen instructions to complete the integration just as indicated above.
If you're using our Standard (Legacy) Builder, and you have an Advanced subscription, you can use its sub accounts to integrate with multiple accounts from the same service. You can check out our blog post about this here: Sub Accounts: Get Multiple Accounts for Clients + Easily Manage Integrations.
Another option when using the Standard Builder is to use our copy/paste integration option if your third-party service provides HTML opt-in forms. There's no limitation on using form code from multiple accounts on standard pages, but please keep in mind we're unable to support any issues you may have when working with HTML forms.
How do I reconnect my integration?
If your integration has disconnected or you're seeing an error symbol next to your integration in your form settings, you can learn how to reconnect your integrations here.
---
Need more help?
You can always get in touch with our support team—just click Support in your Leadpages navigation menu, or submit a ticket ↗