Leadboxes are high-converting, customizable opt-in forms that can be embedded on almost any site. This guide will cover how to create (and personalize) a new Leadbox from scratch, so you can start gathering leads and growing your list. Here are the four basic steps:
Getting started
To create a new Leadbox, navigate to the Leadboxes tab in your account dashboard. Then, click Create Leadbox. 
NOTE:
 This article details the creation of standalone Leadboxes, created under the Leadboxes tab on your dashboard and meant to be used on websites and blog posts. If you intend to use a Leadbox on a Leadpage, you will create an on-page Leadbox.
Learn more here
.
Next, choose a descriptive name for your Leadbox and click Start Building to open the Leadbox builder.
Customizing and adding content
All new Leadboxes include a few widgets to get you started, including a progress bar, some text, and a form. Click any widget to customize it, like the text widget shown below: 
Adding new content
You can customize your Leadboxes with additional content widgets. Here's how:
Click the widgets icon in the left-hand sidebar. 
Choose a widget and drag it onto your Leadbox.
You can learn more about each widget here: Drag & Drop Widgets. 
TIP: Be careful not to add too much content to your Leadbox. Typically, the highest-converting Leadboxes are laser-focused—more in-depth content is better-suited for a landing page. 
Moving and deleting elements
Hover over any widget to move or delete it. A blue shaded area will indicate where your widget will move as you drag and drop, which is shown below.

Background image
You can add background images to each section of your Leadbox by clicking on Leadbox Layout in the left-hand sidebar, or, you can also add a background image to the entire Leadbox.
To do so, move your cursor to the top-middle of the Leadbox from the gray outside area, then click the more symbol and choose Background Image.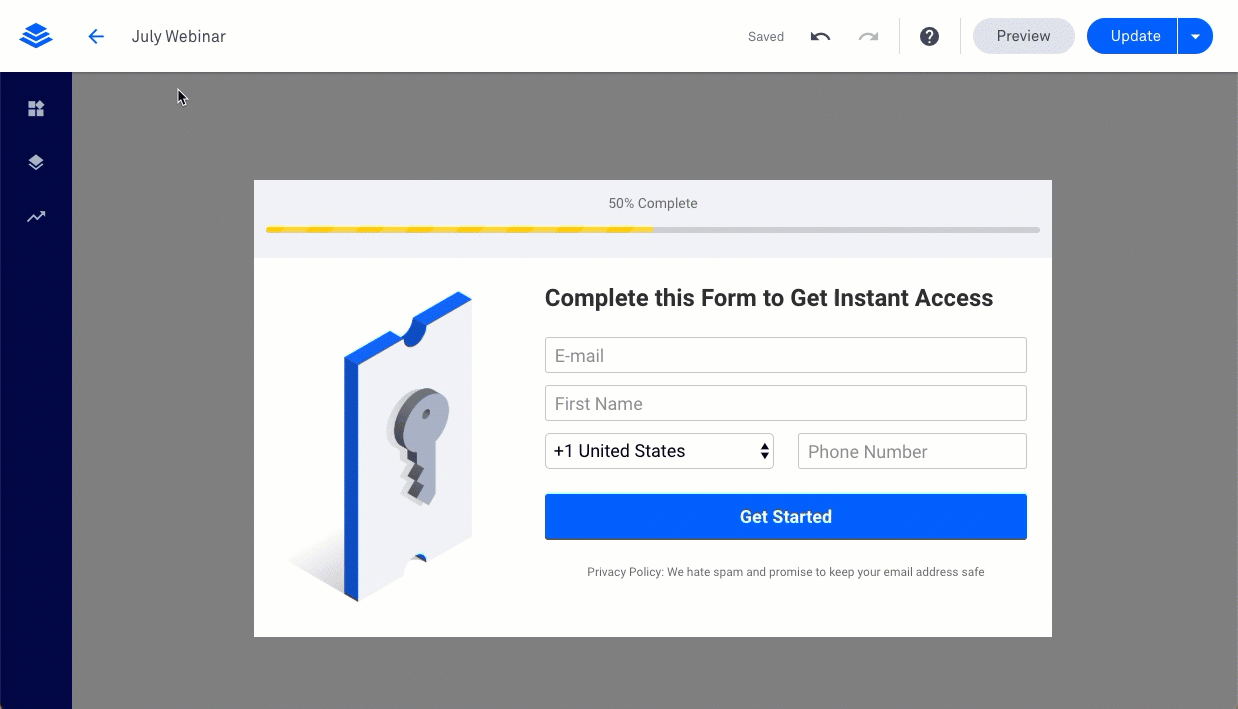 NOTE: You may want to customize or remove the background color from the sections of your Leadbox. To do so, click Leadbox Layout from the left-hand sidebar to navigate to your section styles.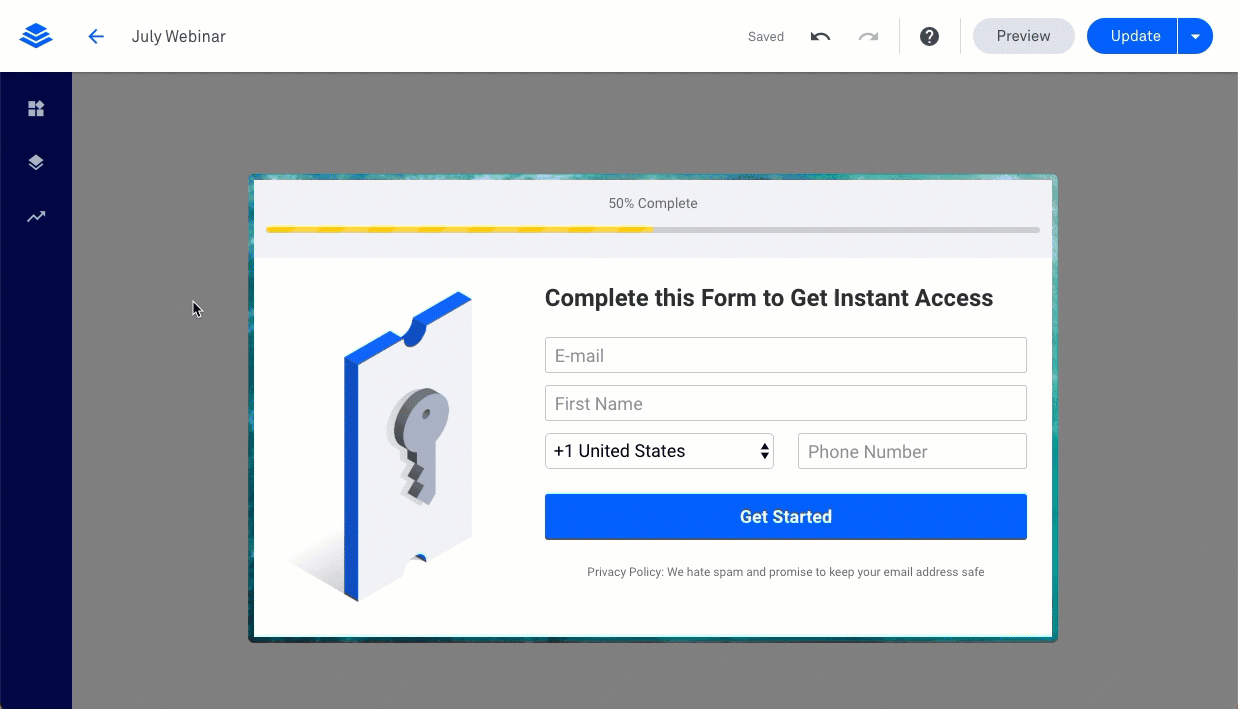 Box shadow
You can add a box shadow around your Leadbox to give it an outline of color, or simply give it the appearance of rounded corners.
To do so, move your cursor to the top-middle of the Leadbox from the gray outside area, then click the more symbol and choose Box Shadow, then check the box "Apply box shadow." Go back one menu pane to adjust the color and/or opacity of the shadow.
Use the color picker to choose from your brand colors, the page template colors, or click ADD next to "Page Colors" to select a different color or opacity for your shadow.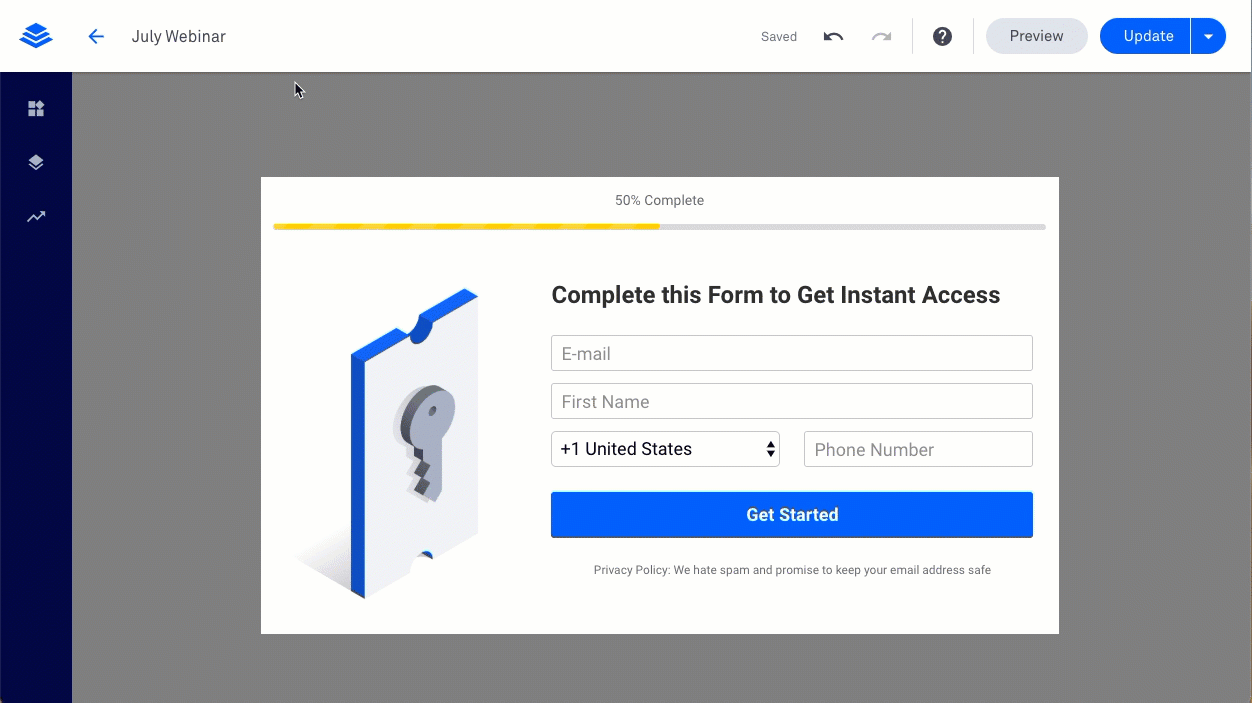 Setting up your form
Each Leadbox includes a form widget by default. In most cases, you'll want to customize the following parts of your form:
your integration settings: where you're sending lead data
follow-up: what happens after someone submits your form
For details on customizing and setting up your form widget, please see our article here: The Form Widget.
Publishing your Leadbox
Now that you've created your Leadbox, it's time to publish it to your site. Click Publish in the top-right corner of the Leadbox builder to explore the available options. For a full guide on publishing your Leadbox, please see Publishing Your Leadboxes.
Frequently asked questions
Can I use standalone Leadboxes on a Leadpage?
You can paste any Leadbox's code into an HTML widget on your page. At this time, we don't have a way to connect standalone Leadboxes to existing buttons or elements on Leadpages.
NOTE: If you do use a standalone Leadbox on your Leadpage, you'll need to look at the Leadbox's analytics data to track opt-ins—as they won't appear for your Leadpage.
(Updated September 10, 2018)
---
Please let us know if you have additional questions.
You can always file a support ticket if you have additional questions by clicking the Support button in your dashboard shown here or clicking here to file a support ticket.